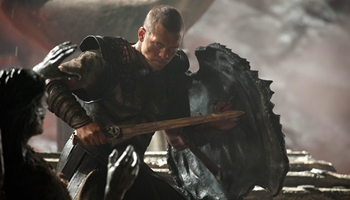 Increíble teaser trailer de la remake de "Clash of the Titans", película de aventuras y acción basada en la mitología clásica griega. La película prometía desde el vamos, ya que la tecnología actual puede darnos un mundo mitológico lleno de criaturas gigantes, dioses y héroes a la altura de los mitos clásicos. Ahora, habiendo visto el trailer, la película se convierte en una esperada por todo el mundo.
Dirigida por Louis Leterrier, el hombre detrás de "Incredible Hulk" (con Edward Norton) y "Danny the Dog", la película está protagonizada por Sam Worthington, quien encarna a Perseo, acompañado por un elenco de figuras como Liam Neeson, Danny Huston, Ralph Fiennes, Gemma Arterton, Pete Postlethwaite e Izabella Miko.
La cinta tendrá su estreno mundial en muy poco tiempo: el mes de marzo del año entrante. Les dejo, por supuesto, el excelente trailer de la película, un verdadero "teaser".